I did 6 jumps yesterday and only 2 jumps showed up in my log…
Hey T1jettero,
Would you mind sharing your software version with us? You can find that in the diagnostics section called "FW" or, you can take a picture of your boot screen - the green text.
Thanks for your feedback.
Dan
@dan Hi Dan, happened to me today, too. Did two jumps only half of the first jump was logged.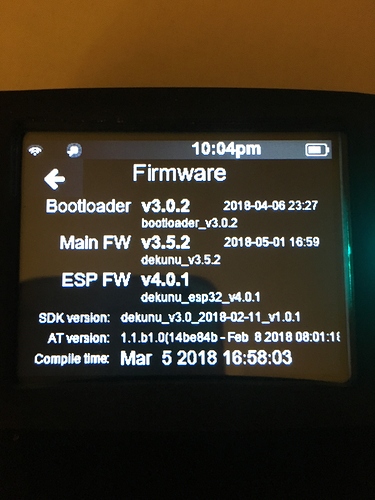 Just landed, unit froze after pressing home button and now lost the data off that lift


Second time now

Hi @dan
I did two jumps today neither recorded on the device. The alti behaved well in the plane freefall and canopy… the only thing I did different was press the find DZ button from the you have landed screen. Is there anyway you can recover the jumps if I upload my logs to you.
Cheers


This happened to me today as well. The unit also froze randomly mid day, but that's a different story. Anyway, I did the jump, saw the "you've landed" screen but did not review since I was too busy dealing with getting inside. I get inside to look at the data, but it says I never did the jump. Not in the log, not on the counter, not anywhere. FW versions are exactly as the picture Robin included. I guess it was a phantom jump!
Hey guys,
If you notice any logs are missing after landing, send me an email support@dekunu.tech
Give me the date, approx. time if you know it and how many logs are missing.
If you did 7 jumps and only 5 are logged, let me know which are missing, e.g. Jumps 2 and 5 of the day.
This is something we are aware of and are working very hard to resolve.
I stopped flagging them, because they are too many. For example: the last 3 days, I did 18 jumps, only 3 out of 5 from the first day are logged (yesterday and the day before, not even 1 jump logged.)
@stirre Can you send me an email to support@dekunu.tech please?
Let me know which jumps on which days are missing and I will have it looked into for you. Thanks.
Hi @Tracy,
You always offer to put the missing jumps into the logbook. I really like the offer but than I have to mail you every jump day (this weekend I miss 17 logs for example, from my 2 jump days)
Would it be an idea to just wait until the renewed logbook comes out and than make a list of all the missing jumps (really a lot) or do you prefer something else?