No, we don't as the basic functions are very stable. But I have two audibles
Was the last update 4.9.1 from December? Also…any status on anything new? Seems like the update frequency has slowed significantly so I don't know if mine is hung up on an old version or there just haven't been any updates to download. Any ETA?
I'm sure it'll be soon,
I know the guys are running a load of tests on a new unreleased fw version right now.
They will be testing the stability, security and back ups of it too to make sure it's sound.
There was a couple of issues with an early fw that a load of users had issues with ( me including) so I would imagine the guys are being very meticulous with any and all future releases.
@Tracy may kill me for saying this,

But I can say the new UI is looking AWESOME!!
@mutley Totally forgiven


There are some big changes in the next fw release guys, apologies it is taking a while, hopefully it will not be much longer.
The new plane mode UI is sick, there will be a bunch of jealous jump pilots across the globe for sure. Here is a sneak peek for those that have not seen it yet.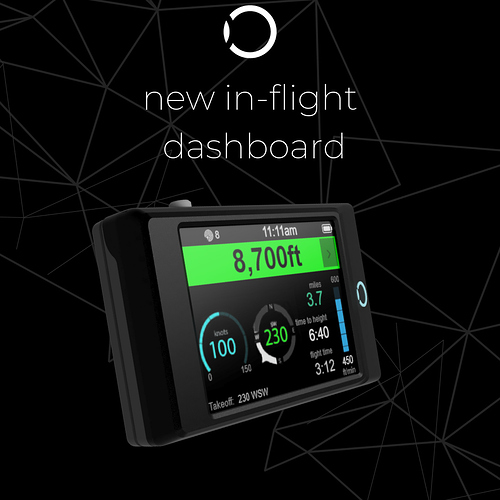 Awesome, looks great…

Hi Tracy,
just to be sure 4.9.1 is the actual firmware or?
Cheers from Germany
Hey @Tamagotchi - correct, we are working on a new release, details will be announced on the forum once it has been rolled out
Just jumped last week and no FW updates pending, no new plane mode displayed, and no even jump details recorded.
Any help, please.
@borja What will hopefully be the next release of FW is very very close, just gathering some more jumps and feedback to ensure there's nothing weird going on and no bugs hiding anywhere…it's looking really promising though

When you say no jump details are recorded, what exactly are you referring to?
Firmware has been released guys


Release notes will be posted in announcements soon
Just updated to the latest firmware and noticed that my latest jump, #150, is missing from the logbook. How do I get it to show up again on my device?
Hey @Hazen75 - I would need to take a look at the jumpLog folder in your device to check this out, please send an email to support@dekunu.tech if you would like me to do so. If you just want to change the jump counter, you can go to your device logbook and enter your next jump number, once you have jumped the counter will update.
Ok. As soon as I have access to my laptop I'll send it to you.
Hey Guys, the new in-flight dashboard is really great! I got so many questions about it during the flight to altitude! Information when you needed. I personally loved seeing distance to Dropzone running down to 0 while back in the bus with no way to do a visual spot prior to getting ready in the door! Well done boys and girls! Keep in up!
Hi Tracy!!
Any fix for the WIFI come out yet? How will we get the update if the WiFi won't lock in? I need guidance please.
Thanks,
Eric
@hazmat2469 testing a fix right now, I expect we should have enough jumps on it by next week if all goes well, there are no huge changes so it shouldn't take too long to roll out